Skip Main Navigation
Your Challenge: Design a Nest Box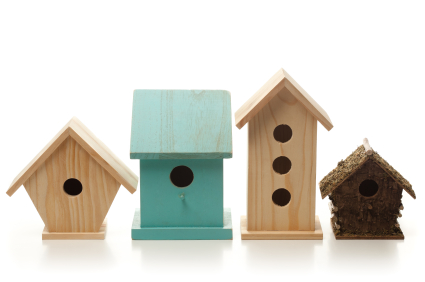 Different birds require different types of nest boxes.
One way to help protect endangered birds is to create nest boxes. A nest box is the same thing as a birdhouse. It provides a good place for a bird to build a nest and raise its young.
All of the birds you just read about can have trouble finding safe places to build nests. Scientists believe the Bewick's wren may have declined in the East because it is being ousted from nesting spots by the house wren. Barn owls are in trouble in some areas because the spots they like to nest in—like barns and holes in old trees—are becoming increasingly uncommon. And the red-cockaded woodpecker nests almost exclusively in very old pine trees, many of which have been cut down.
Fortunately, there are ways to help these birds. In the absence of their traditional nesting spots, owls and red-cockaded woodpeckers can use nest boxes to build nests and raise their young. In the West, where there aren't as many house wrens to compete with, nest boxes can also help the Bewick's wren find safe places to nest.
Together with your STEM team, choose one bird species out of the three you have just explored, and plan and design a nest box for it. Over the next few activities, you will use the engineering design process to create your nest box—and you will even get to see if it is successful in attracting a bird!
Start by making sure you understand the problem. Next, work with your STEM team to brainstorm answers to the following questions:
Where does this bird usually choose to nest?
How can we create an alternative place to nest?
What materials can we use?
Work with your team and conduct some research on your chosen bird and its habitat. The links below will give you a good start. As you go, keep track of information and ideas on page 4 of your Engineering Portfolio.
Bewick's Wren Information:
> Audubon: 30 Birds to Help: Bewick's Wren


(from Audubon)
> National Geographic: Bewick's Wren


(from National Geographic )
Barn Owl Information:
> Audubon: 30 Birds to Help: Barn Owl


(from Audubon)
> Barn Owl Fact Sheet


(from Connecticut Department of Energy and Environmental Protection)
Red-cockaded Woodpecker Information:
> Red-Cockaded Woodpecker (PDF)


(PDF from Texas Parks and Wildlife Department)
> Avianweb: Red-Cockaded Woodpecker


(from Avian Web)